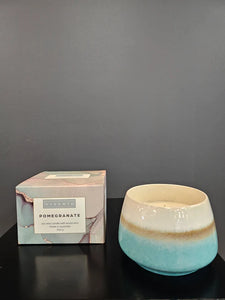 Don't forget the new Mum when buying a baby gift. After all, she has done all the hard work to bring a precious new life into the world and deserves a treat.
Our Vivante Ceramic Pomegranate Candle will add a touch of vibrant sophistication to your home. Each candle is hand poured in Australia with natural Soy Blend wax and features a crackling wooden wick for optimal burning.
Elegant Soy Wax Candles made using bespoke ceramic vessels that will add an elegant touch to any home. Our Soy Wax Candles are made using crackling wooden wicks that provide perfect relaxing ambience, and along with quality wax and fragrance, your candle will be burning beautifully for over 30 hours. 
Reuse the beautiful ceramic vessel once the candle has been used - some ideas are a trinket box or planter.
300g
Made in Australia.