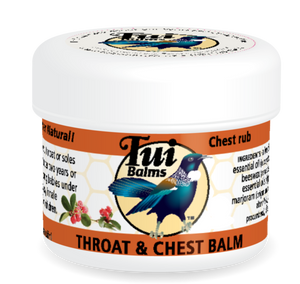 Tui Throat & Chest Balm is an effective salve for the clearing of nasal, sinus and chest congestion.
Uses:
Rub onto the chest, around the neck, throat and onto the back, especially before sleep.
Apply directly under the nose for faster nasal relief.
Also effective when worked into the feet then left overnight.
Take care applying to young children as it will create a cooling sensation on the skin (You can make it milder by mixing it with a little Tui Bee Balm).
 Ingredients: Olive oil, certified organic NZ Beeswax, Menthol, essential oils of Eucalyptus, Peppermint, Marjoram, Tea Tree and Wintergreen, vitamin E.
Precautions:
Use with care around the eyes and mucous membranes.
Avoid broken skin. For external use only.
Not recommended during pregnancy (inhale instead).