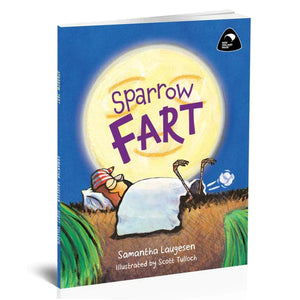 "Excuse me little bird, I'm trying to find, The noise that a sparrow makes, From his behind..."
Up at sparrow fart means waking very early in the morning, when it's so quiet you can hear the sparrows farting gently in their nests.
But what does a sparrow's fart sound like, exactly?
Join Tom on his early morning adventure to find out!
Recommended for ages 2 years +
Paperback

28 pages

21 x 27cm

Author Samantha Laugesen

Illustrated by Scott Tulloch