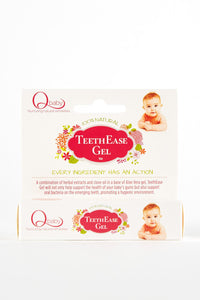 QBaby TeethEase Gel is a 100% natural teething gel free of chemicals, preservatives, artificial colours and flavours and harmful sugars.
As your baby's first teeth start to grow from around six months old, it can be a rather uncomfortable time for them. Providing your baby with the most natural support during this process is vital to their health and happiness. 

QBaby TeethEase Gel is a combination of herbal extracts and clove oil in a base of Aloe vera gel. It is unique in that every ingredient contained within the product has an action, all the way from the herbal extracts down to the gel base. Not only does Qbaby TeethEase Gel support the natural process of the emerging teeth, but also assists in managing the bacteria on the teeth maintaining a balanced and healthy environment.This ensures that your baby will have a glowing smile with every new tooth!


Benefits of QBaby TeethEase Gel:

- 100% totally natural ingredients
- Contains no artificial colours, flavours or additives
- Supports the emerging teeth and gums
- Maintains a healthy oral environment
- Gentle action

Contains: Aqua (Water), glycerine, Xylitol, Hydroxyethycellolose, Calendula Officinalis (Calendula)Extract, Citrus Grandis (Grapefruit Seed)Extract, Eugenia Caryophyllus (Clove) Oil, Aloe Vera (Aloe Barbodensis)Leaf Extract, Liquorice Root (Glycyrrhiza Glabra) Extract, Piper Methysticum (Kava) Extract.

Directions for use: Wash your hands and apply the gel 3 – 4 times daily and at bedtime to the gums.


"Fantastic alternative to Bonjela - Keep it in the fridge and it helps soothe and cool. Loved it!"