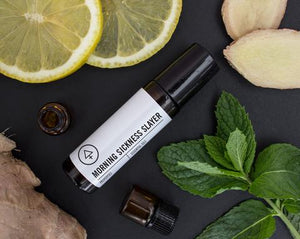 Pregnant and dealing with morning sickness?
Over the taste of every ginger-related food to try and conquer nausea?
The Nude Alchemist had developed the Morning Sickness Slayer, an anti-nausea natural remedy, to help Mum-to-be get through that dreaded phase of pregnancy. 
100% natural, pure and organic ingredients in a roll-on formulation, designed to apply to the soles (arches) of your feet (if you cannot stand the smell) or at the base of your spine. 
Ingredients: Prunus armeniaca (Apricot) Kernel Oil*, GMO-free Tocopherol, Fragrance (Parfum)**, Limonene**. *certified organic  **from natural essential oils
10ml glass amber roll-on bottle.

We are in the process of relabeling our products to adhere to international standards, so labeling may look different than pictured, however, the product remains the same.
Reviews from the Nude Alchemist Website:
"If your looking for a nautral way too get rid of the feeling of ALWAYS feeling sick this is liquid gold! I have used almost the amount in under a few weeks. Would highly recommend."
"Used this with my second pregnancy. It was fantastic! I used it nearly everyday for 9 months and now my aunt is using it too. I recommend it to everyone I know that's pregnant."