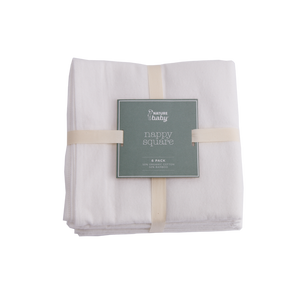 These beautifully soft and absorbent nappy squares will soon become one of your baby essentials!
Nappy squares are a simple and traditional cloth nappy and are an environmentally friendly and cost effective alternative to disposable nappies.
Our brushed cotton nappy squares are made from organic cotton and bamboo, offering comfort, breathability, absorbency and softness against baby's skin.
Nappy squares are extremely multi-purpose and can be used for swaddling, bedding, feeding, changing and cleaning up all those little spills.
The perfect size for popping in your nappy bag for when you're out and about.

6 pack, each square measures 78 x 74 cm