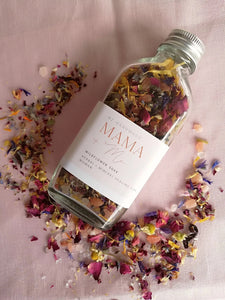 WILDFLOWER BATH SOAK 100gm mini glass bottle
Wildflower bath soak is a luxury treatment that is enriched with an abundance of natural healing and restoring properties. The soak is made in small artisan batches using only high quality pure therapeutic grade essential oils which have been diluted to be gentle for pregnancy from second trimester onwards.
DIRECTIONS: Add half of the jar into the bath as water is running and allow time for the contents to absorb. Soak in a warm bath (no hotter than 37 degrees) for at least 15-20min for full healing benefits.
INGREDIENTS: 100% Natural blend of Sodium Chloride (course + fine pink Himalayan salt), Magnesium Sulphate (Epsom Salt), dried botanicals including Lavender, Calendula, Rose, Chamomile, Hibiscus, cornflower, Peonie and Yarrow, D Alpha Tocopherol (Vitamin E) + Pure essential oils of Rose Maroc (Rose) diluted in Persea Gratissima (Refined Avocado Oil), Cucurbita Pepo (Pumpkin Seed oil), Macropiper Excelsum (Kawakawa in Almond Oil), Prunus Armeniaca (Apricot oil) and Simmondsia Chinensis (Jojoba) with natural plant fragrance oils
ABOUT:
Mama + Me products are specifically designed in small artisan batches using only the highest quality natural ingredients. Our Pregnancy and postpartum collection has been curated to give pregnant mama's the benefit of botanical treatments and self care. The use of essential oils during pregnancy, labour and postpartum are on the rise and are commonly being used by mothers without full knowledge on their potency & potential dangers if not used or diluted in the correct way. This is why we have put together a small collection of gentle products that are ready made so the dilution process is already taken care of. The collection is also perfect for gifting. Often baby shower gifts are full of baby clothes, bibs and treats, but the Motherto-be often misses out. Pregnancy is not a walk in the park and with the changes in hormones and day to day life... Not to mention labour and postpartum recovery we think it is essential that Mothers get treated just as much as bubs!