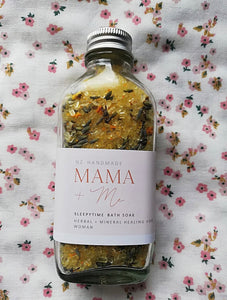 Mama + Me Sleepytime Bath Soak (Mini 100ml)
Mama + me sleepytime bath soak is specifically designed to help relax expectant and new mothers. Each dried floral & mineral has been selected based on their relaxing and healing properties. The soak is made in small artisan batches using only high quality pure therapeutic grade essential oils which have been diluted to be gentle for pregnancy from second trimester onwards.
*Contains essential oils that are not advised for use in first trimester. Please consult doctor in regards to use if you are considered a high-risk pregnancy before use. If irritation occurs discontinue use.
DIRECTIONS: Add half of the jar into the bath as water is running and allow time for the contents to absorb. Soak for at least 15-20min for full benefits.
INGREDIENTS: Magnesium Sulphate (Epsom Salt), Sodium Chloride (fine pink Himalayan salt), dried Lavender, dried citrus peel, D Alpha Tocopherol (Vitamin E) + pure essential oils of Boswellia Serrata (Frankincense) Cananga Odorata Var Gernuina (Ylang Ylang), Lavandula Angustifolia (Lavender) and Citrus Reticulata (Mandarin) diluted in Perdsea Gratissima (Avocado Oil)
ABOUT:
Mama + Me products are specifically designed in small artisan batches using only the highest quality natural ingredients. Our Pregnancy and postpartum collection has been curated to give pregnant mama's the benefit of botanical treatments and self care. The use of essential oils during pregnancy, labour and postpartum are on the rise and are commonly being used by mothers without full knowledge on their potency & potential dangers if not used or diluted in the correct way. This is why we have put together a small collection of gentle products that are ready made so the dilution process is already taken care of. The collection is also perfect for gifting. Often baby shower gifts are full of baby clothes, bibs and treats, but the Motherto-be often misses out. Pregnancy is not a walk in the park and with the changes in hormones and day to day life... Not to mention labour and postpartum recovery we think it is essential that Mothers get treated just as much as bubs!