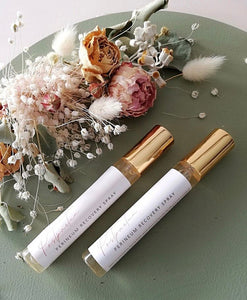 Mama + Me Postpartum Perineum Recovery Spray 15ml
15ml glass bottle which gives over 225 single sprays.
Apply to perineum by turning bottle upside down and spraying affected area a couple of times to assist healing and to help soothe any discomfort. Store in the fridge for extra cooling effect. Distilled water can be added once half empty to extend usage if desired. For external use only.
NZ Made 100% natural ingredients including:  Witch hazel extract (alcohol free), Natural aloe vera gel, kawakawa extract and Micro Db (natural preservative).
ABOUT:
Mama + Me products are specifically designed in small artisan batches using only the highest quality natural ingredients. Our Pregnancy and postpartum collection has been curated to give pregnant mama's the benefit of botanical treatments and self care. The use of essential oils during pregnancy, labour and postpartum are on the rise and are commonly being used by mothers without full knowledge on their potency & potential dangers if not used or diluted in the correct way. This is why we have put together a small collection of gentle products that are ready made so the dilution process is already taken care of. The collection is also perfect for gifting. Often baby shower gifts are full of baby clothes, bibs and treats, but the Motherto-be often misses out. Pregnancy is not a walk in the park and with the changes in hormones and day to day life... Not to mention labour and postpartum recovery we think it is essential that Mothers get treated just as much as bubs!