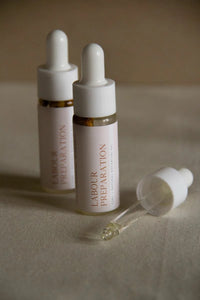 A botanical infused oil for supporting natural inducement of labour
Massage around the abdomen, lower back, hips and pelvis area or combine with rubbing onto feet and ankles to help stimulate contractions of the uterus.
Use from 38 weeks to support labour preparation, use daily morning and night.
15ml Glass Dropper bottle
Ingredients:
100% pure therapeutic grade essential oil of Salvia Sclarea (Clary Sage) diluted in Caprylic Triglyceride (Coconut oil) infused with dried Chamomile and St Johns Wort with Vitamin E
Properties of oils:
Clary Sage (Salvia Sclarea): is an extremely relaxing, euphoric, antispasmodic and analgesic oil. Studies have shown it enhances uterine contractions while relieving uterine pain. Clary Sage is also of great help during times of anxiety, nervous tension, low mood and nervous depletion. Especially helpful when the mind feels panicky, fearful, scattered or out of control. The euphoric action of Clary Sage is also helpful to open and centre the mind during times of stress, creative processes or meditation. This is a key oil to help ease abdominal and lower back cramps after or during labour and also during menstruation. Caution must be given with low blood pressure. Avoid use with Pitocin (oxytocin injection for inducing labour) as this can cause uterine hyperstimulation.
Coconut Oil: Highly Moisturising that slows the loss of water from the skin by forming a barrier on the skin's surface. Coconut oil is majoritively made up of saturated fats that have a multitude of benefits for our skins defensive barrier function. The fats and essential amino acids in coconut oil help the barrier of our skin to remain strong, moisturised and looking great!
Vitamin E Oil: Applying vitamin E to your skin helps protect delicate skin from damage due to its antioxidant properties. It enhances moisturisation so It's also extremely hydrating – it's both a 'humectant' and an 'emollient' – so it helps your skin absorb water and traps it within the skin too.
Aroma Therapy Safety Guidelines:
Avoid aromatherapy with epilepsy, high-risk pregnancies, liver or renal disease, preeclampsia, eclampsia, placenta previa and reduced fetal movements.
Exercise extra caution with breech, diabetes, asthma, allergies, hypertension, hypotension, bleeding disorders, history of miscarriage, hemorrhage and allergies to plants or aromatics. Consult your doctor before use in these cases.