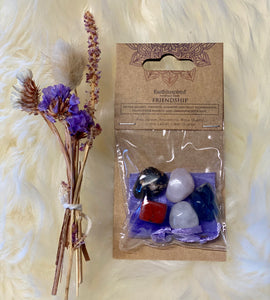 A lovely little gift idea for a pregnant or new Mum when buying a baby gift.
Friendship Wellness Crystal Kit
This Friendship wellness crystal kit brings balance, strength, harmony and trust to friendship.
Helps foster honesty and compassion with love.
E
ach pack comes with an organza bag for safe keeping of your crystals.
5 Stones: Red Jasper, Rhodonite, Rose Quartz, Lapis Lazuli, Clear Quartz.

Organza Bag and Stone colours, sizes and shapes will vary between kits.