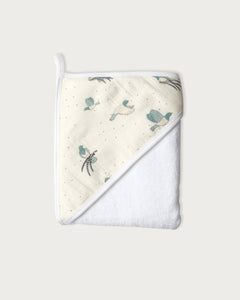 Babies and young children have extremely sensitive skin, so we've made our hooded towels from only the softest cotton. No more scratchy towels after bath-time – even after many washes.
Possibly the cutest thing ever invented, the hooded towel is made from incredibly soft and absorbent terry towelling & trimmed with coloured cotton rib & stitching, perfect for bundling up baby after a bath.

Comes in a lovely cotton bag.
1 x Organic Hooded Baby Towel
Embroidered Logo
100% GOTS organic cotton
500gsm terry towelling
75cm x 80cm 29.5" x 31.5"
NZ Forest
The New Zealand forest is home to many friendly creatures and beautiful native plants. Gaze up, where the arms of the pōhutukawa stretch out far above, a guardian to the life below. Listen to kererū's mighty wings beat as he takes flight and a little pīwakawaka gently flits and flutters around a bright kōwhai tree.
How do I wash my baby towels?
Wash baby towels on a warm machine cycle (max 40°c).
Dry them on the washing line or on a low tumble dry.
We recommend washing them before use. Our baby towels will be most absorbent after 4-5 machine washes.