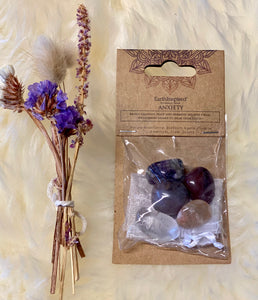 A lovely little gift idea for a pregnant or new Mum when buying a baby gift.
Anxiety Wellness Crystal Kit
This Anxiety wellness crystal kit brings calmness, peace and harmony, relieves stress. Encourages wearer to speak their truth.
Each pack comes with an organza bag for safe keeping of your crystals.
5 Stones: Purple Aventurine, Blossom Agate, Fluorite, Amethyst, Clear Quartz.
Organza Bag and Stone colours, sizes and shapes will vary between kits.