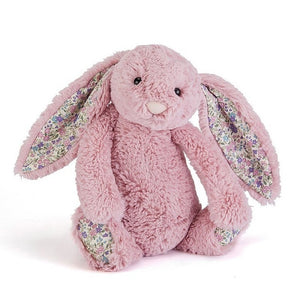 Blossom Tulip Pink Bunny is so glad you came to see her! She needs another player for her new game's Race around the Roses. Sometimes when she's bounding, her flowery ears flapping, she tumbles onto her fluffy tummy! No harm done - it's all part of the fun for this funny bunny!
18cm tall.
Tested to and passes the European Safety Standard for toys: EN71 parts 1, 2 & 3, for all ages.
Suitable from birth.
Hand wash only; do not tumble dry, dry clean or iron. Not recommended to clean in a washing machine.
Check all labels upon arrival of purchase.
Designed by Jellycat in England – Jellycat strives to use the most interesting and distinctive materials and as a result produce toys that are hip and humorous and always soft and sumptuous. Jellycat designs appeal to children and adults of all ages. They're sophisticated, quirky, irresistible soft toy designs that are destined to become children's fa­vorites for years to come.
Jellycat creations appeal to children ages 6 months to adults, precious to hold…for a long long time.